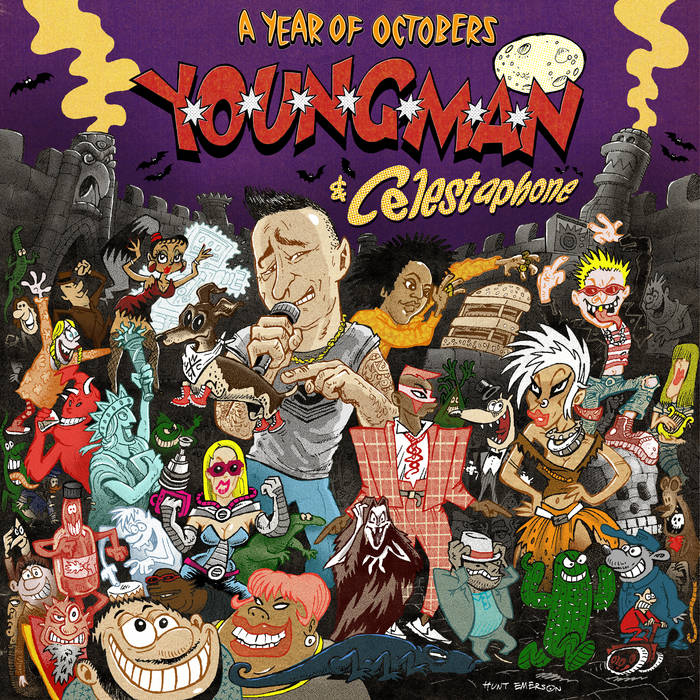 Digital album Download
Includes download options for MP3, FLAC & WAV.
Release date:
20 August 2021
A YEAR OF OCTOBERS 5:07
13TH MONTH 2:08
GUILLOTINE (feat. MC Paul Barman) 2:23
HUMAN RIGHTS (feat. billy woods) 3:27
IF I GOT IT YOU GOT IT 3:46
YES 3:19
INSPIRED 2:14
MEDICALLY INDUCED COMA 2:42
NO 3:39
ALL IN A DAY*S WORK 2:45
GALACTIC LUV 2:39
PEAK BOSS 4:44
THIS HEAH MASTAPIECE WAS CREATED DURING A TIME OF UNTOLD DISASTROPHES & LOVE EXPLOSIONS. T*H*A*N*K**Y*O*U!!!!
released August 20, 2021
Produced by Celestaphone
Lead vocals, rhymes: Y*O*U*N*G*M*A*N Turntable, keyboards: Celestaphone
Recording facilities: Steel Tipped Dove's studio, Brooklyn; Frogs With Dirty Little Lips, San Mateo; various remote locations Recording engineers: Paul Barman, Celestaphone, Steel Tipped Dove, Suzanne Goldish & Eli Gesner Mix engineer, mastering: Celestaphone
Layoutist: Alex Haught Dog photo: Wayne Middleton Cover illustrator: Hunt Emerson Add. design, cover colorist: Josh Grotto Art direction: Paul Barman & Celestaphone
Livicated to MF DOOM & Solomon Special thanks to Stinko Salami, nephs & niece
All selections published by Horn Implant Music (ASCAP), Drumhex Music (BMI).
©℗ 2021 Drumhex. DHX-008.